July is an exciting month here at the Tavern. We've got a lot in the works and wanted to give you a heads up on it all. Check what we have below. There's something for everyone:
St. Jude Children's Hospital Charity Event
BlueBoxRPG is hosting a charity streaming event with LordGosumba to raise money for St. Jude Children's Hospital. We'll be providing more details soon, but block out time on your calendar on Saturday, July 17th at 2 PM CST (Noon PST/3 PM EST). During this very special event you can see Demongund, Istallri, Jonny Ree and Jason (Dwarf) from Bouncy Rock, and myself, the Mad Wizard of Tales Tavern as we play D&D and support a very worthwhile charity. Come to watch the fun, or if just to see what kind of stupid crazy moves we make.
Tales Tavern Author Search
On the Tavern you've always been able to search for slabs and boards by creators by searching their names. To further simplify finding your favorite creator, there is an option to search for creator profiles, specifically. Just change the drop down to 'search creators' on the 'results' page or on the 'browse by creator' page. You can easily find your favorite creator by typing their name. It displays their four most liked submissions and you can click to their profile as well.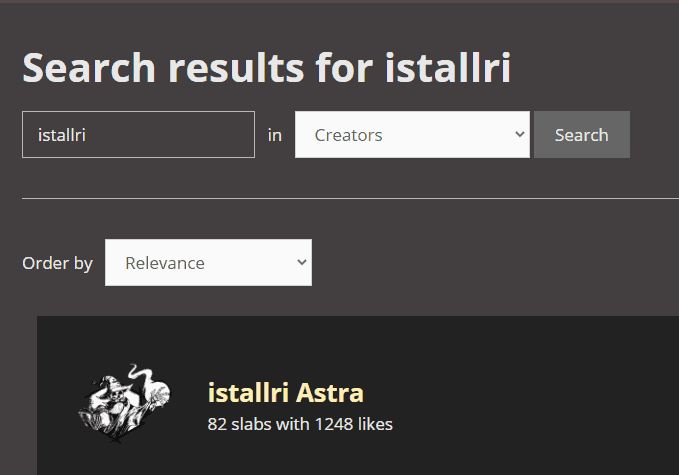 Need some Ko-fi? Coffee?
Ko-fi is another way to support your favorite creators. Besides the links to their twitch, youtube, and patreon pages, creators can now add a link to their Ko-fi page on their creator profile. Because any creator can use more Ko-fi !

Slab Asset Replacement Tool in Beta
Last month we rolled out our Slabalyzer tool that analyzes and optimizes (mostly removing duplicate) assets, but now we've got more cooking. Our Slab Asset Replacement Tool will allow you to remove or replace tiles and props in a slab. This tool also updates the slab format from V1 to V2 (it does not replace the actual deprecated assets at this point).
We've got a lot of plans for this tool with both a free version and an enhanced Patreon only version. For now we're rolling out this in beta to our Patreons at any support level. If you want to check it out and help support this site in developing new tools, you can find our Patreon page at https://www.patreon.com/talestavern .
Note this is a very first blush and there are a lot of hiccups we'll have to work through, but wanted to get it out so you can play with it and help us make sure we catch them all and we make this as useful as possible.
Badges! I do need stinking badges! And a chance at a Steam Gift Card
Well, enough serious work, we wanted to add some more fun interactivity on the site. So we're rolling out new badges you can earn later this month. Post a slab, earn a badge. Post a lot of slabs, get another. Like something, comment, etc. now you'll get rewarded (if only in a small way) for being active on the site.
Before we do that, we want your input. We could spend all our creative juices coming up with titles, images, etc. for the badges. But why do that when we can bribe you to do the work? Simply take the survey below, and let us know your creative ideas for what badges we should give out, what they should be named, and what images should be used. We're using TaleSpire asset pics for the badges, so it will take some creativity. And come up with your best D&D or TTRPG names for the badges. Let's have some fun with this.
Everyone who fills out the survey will get entered. And if we use any part of your idea (name, image, etc) we'll give you extra entries into the drawing. Go crazy, have fun, we can't wait to see what everyone comes up with.
The deadline to enter is July 16th so we can review and pick a winner and announce it the weekend of July 17-18. Thanks in advance for everyone who enters!
Click here for the Tales Tavern Badge Survey