As we've reached Early Access for TaleSpire, we wanted to welcome all the new users to both TaleSpire and Tales Tavern. So come and gather round, we're glad to have you here as a new member of this fantastic, creative community that grows with every update. TaleSpire, in our opinion, is the best way to play a tabletop game remotely with its ability to create beautiful, immersive experiences and the commitment the developers have to expanding the software for many years to come.
Those who've been playing and building throughout the beta proclaim TaleSpire has forever changed how we play D&D with its detailed maps and miniatures and the flexible atmosphere and ambience options which really add to a gaming experience. Of course the rules-agnostic system can be used for Pathfinder, Warhammer and other tabletop RPGs. We've even seen some traditional tabletop board games recreated in TaleSpire like chess and monopoly!
So in order to help you get started we wanted to give you a few quick tips on how to use Tales Tavern as well as some other valuable resources as you acquaint yourself with this new way to experience and enjoy virtual creative gaming.
Getting Started
Since this is new to many of you, you'll have a lot of questions. In order to help out, we've created a few guides that can help you understand the TaleSpire software and its versatility as well as limitations better. We've got more on the way but here's the basics you need to get started.
TaleSpire Terminology Guide – There are a lot of terms in TaleSpire that are common to most TTRPGs. Some have slightly different meanings in TaleSpire, so we created this guide to help you get started understanding the lingo.
The Ultimate Player's Guide to TaleSpire – If you plan on playing a game in TaleSpire, this guide will help you understand a bit more on what you can and can't do and how it all works, from choosing a mini to rolling spell dice.
The Ultimate GM's Guide to TaleSpire – Coming soon
The Ultimate Builder's Guide to TaleSpire – Coming soon
Slab & Board Sharing
Well, in order to experience a game in TaleSpire someone has build out a board for you to play on, or often multiple boards collected in a campaign. You can build your own, one piece at a time, but sometimes you just don't have time for that. After all, why spend hours learning how to build in Talespire if you can simply copy and paste? Both the software and this website and map repository, help you do just that.
First, if you simply want to browse the latest slabs and boards you can find them in our Slab & Board Repository where you can simply browse all you want, or you can also use the search feature as well. You can then filter it down further to really find what you're looking for. And if you have a particular search you like you can bookmark it and save that URL for later. For example if you want to see all Wildemount or Curse of Strahd slabs, it's easy to find.
Now that you've found a board or slab, you have a couple of options on how to bring these in. You can do this either from the search listing itself or by clicking on the single page view. So let's go over quickly how to bring them into TaleSpire.
First is the thumbnail view and what the buttons do.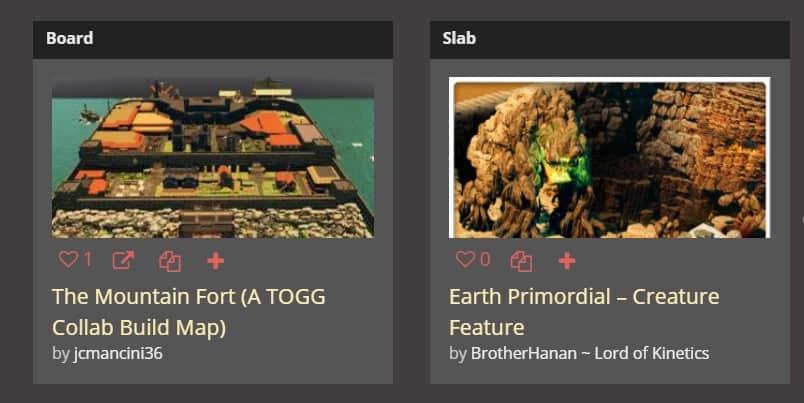 Right off the bat we can tell the one on the left is a board, while the one on the right is a slab. Boards contain an entire board to be used in TaleSpire where slabs are just portions of a board (structures, hills, areas, etc.).
You can like a board or slab by clicking the heart on the left, or use the plus icon to save it/bookmark it to a collection. But for now, bring the board into TaleSpire. Just open TaleSpire, then a campaign that you have GM privileges to and click the view in TaleSpire button (shown below). Your browser will ask to confirm that you want to open the link, and once you do TaleSpire will ask if you want to import the board, and voila! You've got a brand new board in your TS campaign that you can edit, duplicate or just use as is.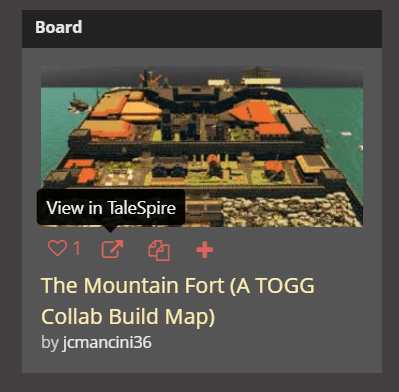 If you want to use that another time you can click the copy button, which will copy to the windows clipboard the URL (which can be used in TaleSpire in the add board feature shown below), in the bottom of the boards menu. Or you can use the plus icon to save a bookmark to this in your collections. All your collections can be seen in your profile page once you log in via Steam.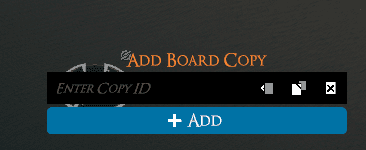 Now if you've found a slab, the process is a bit different. Slabs are copied and pasted as big blocks of code. They do have an upper limit in size but still can be quite sizeable depending on how they're built. Simply click the copy code button (seen below) and then as you go into TaleSpire, you go into a board where you want to paste the slab and simply press Ctrl-V. You can then place your slab wherever you want. It's that easy.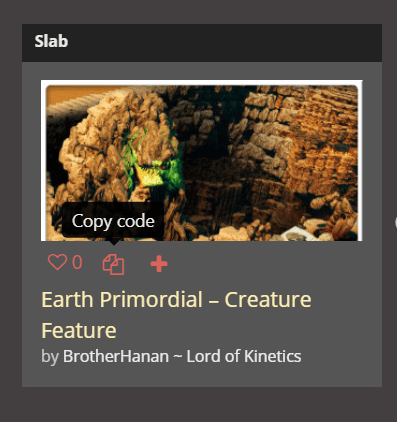 There's a ton more you can do in TaleSpire and much more on the Tales Tavern website through collections, resources, browsing assets and more to come. Before we wrap up, here's a couple of other really useful resources.
Other Resources