Made In Abyss
Campaign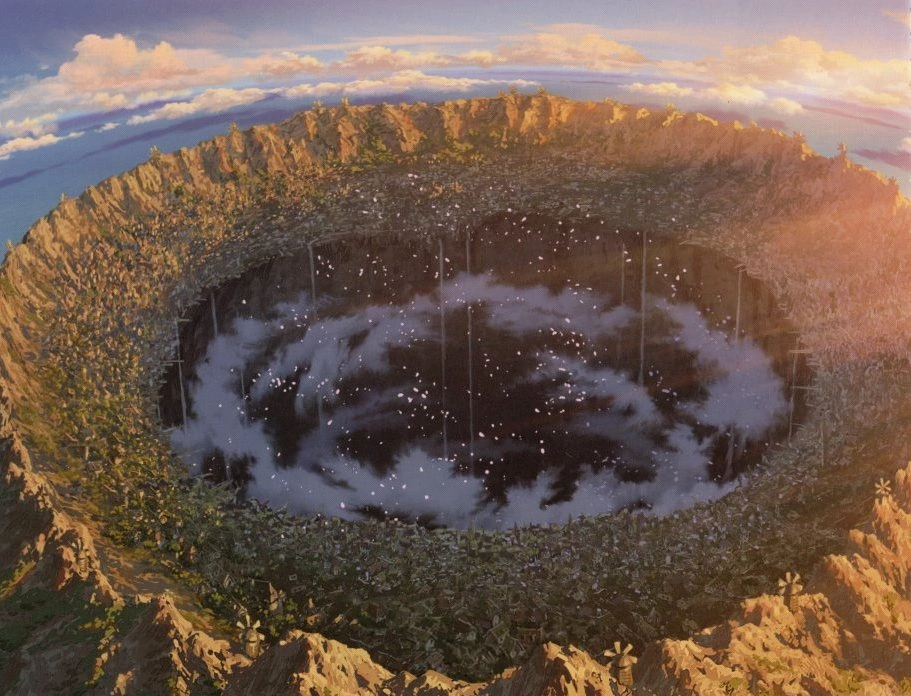 A campaign in the setting of the manga "Made In Abyss", goes from Lvl 1 – >15?
Campaing book was written by this guy: https://www.reddit.com/r/MadeInAbyss/comments/7fot29/dd_made_in_abyss_guide/
1st adventure: Delian Tomb
2nd adventure: God loves, Man Kills
Then the player ships out to Orth and the Abyss arriving at the Caravan Fleet.
2nd layer: Tombs of Old – I have used the adventure The Hidden Shrine of Tamoachan
Otherwise i reccomend to watch the anime or read the manga, then look through each board and adjust it as you need. There are a lot of hidden blocks and altered enviorment, that I'm too lazy to reset.
I've stolen so much through Talestavern that I can't give credit to all those who should have. Feel free to use it however you like!
Have fun!
Layer 6 and 7 wil come eventually
(Notes: Splint = Nanachi)
(Used a lot of HeroForge models – you will need to find replacements)
Here is the ordrer to play the boards:
Delian Tomb – talespire://published-board/RGVsaWFuIFRvbWI=/a375c83a4173a075d15afabcc3efa902
God Loves, Man Kills – talespire://published-board/R29kIGxvdmVzLCBNYW4gS2lsbHM=/658a1a5d4d5a1c3557dd409328b4f0f1
Caravan Fleet – talespire://published-board/Q2FyYXZhbiBGbGVldA==/70e4a2a342c93febf4a79cab344b127b
Orth – talespire://published-board/T3J0aA==/f1fa1d7949f9a6b9bc1fb494e67cf1f4
Orth, Delvers Guild – talespire://published-board/T3J0aCAtIERlbHZlcnMgR3VpbGQ=/522123ec41aa5555f448c98fe3b2346d
Layer 1, Center – talespire://published-board/TGF5ZXIgMSAtIENlbnRlcg==/51d690074f26900b93d079a984fc867a
Layer 1, Clockwise – talespire://published-board/TGF5ZXIgMSAtIENsb2Nrd2lzZQ==/59df5f7b429f17acd4e7549d72fd2a10
Layer 1, Counter clockwise – talespire://published-board/TGF5ZXIgMSAtIENvdW50ZXIgY2xvY2t3aXNl/caaad45d4207dc9ffd5c6185ace259c3
Layer 2, Peripheral – talespire://published-board/TGF5ZXIgMiAtIFBlcmlwaGVyeQ==/66d70262466ab44f42546d9927900b21
Layer 2, Center + Inverted Forrest –  talespire://published-board/TGF5ZXIgMiAtIENlbnRlcg==/3a84e52e426b052c9fb15f93f19ef044
Layer 2, Seeker Camp – talespire://published-board/TGF5ZXIgMiAtIFNlZWtlciBDYW1w/b6d55c764fc5818ae1a7b9839c7e9eda
Layer 2, Ruins of Old – talespire://published-board/TGF5ZXIgMiAtIFJ1aW5zIG9mIE9sZA==/12cce6c84b7472e5f33880bf728a4eaa
Layer 3, The Great Fault – talespire://published-board/TGF5ZXIgMyAtIFRoZSBHcmVhdCBGYXVsdA==/26153a264b224d3d1e64f6a46acfd01a
Layer 3, The Ravine – talespire://published-board/TGF5ZXIgMyAtIFRoZSByYXZpbmU=/f3a5555b44bf3f57f13a0586350773e5
Layer 4, Goblets of Giants –  talespire://published-board/TGF5ZXIgNCAgLSBUaGUgR29ibGV0cyBvZiBHaWFudHM=/123ceecd46020c23c9a7f1a09afc7dec
Layer 4, Splints (Nanachis) Hideout – talespire://published-board/TGF5ZXIgNCAtIFNwbGludHMgaGlkZW91dA==/dd69e2d243e575b1a770ae9e19441558
Layer 4, Fields of Eternal Fortitude – talespire://published-board/TGF5ZXIgNCAtIEZpZWxkcyBvZiBFdGVybmFsIEZvcnRpdHVkZQ==/65caf3cf4e1ddf7d225b07846f532a54
Layer 5, World Map – talespire://published-board/TGF5ZXIgNSAtIFdvbHJkIE1hcA==/67dd768f4a546d742212ae84e9309d61
Layer 5, Agartha – talespire://published-board/TGF5ZXIgNSAtIEFnYXJ0aGE=/fa825bea41a9641bae7754868cce64a1
Layer 5, Aubade Cavern 1 – talespire://published-board/TGF5ZXIgNSAtIEF1YmFkZSBDYXZlcm4gMQ==/bab5058e4d00e295ca46d89ceaf94837
Layer 5, Aubade Cavern 2 –talespire://published-board/TGF5ZXIgNSAtIEF1YmFkZSBDYXZlcm4gMg==/50e5b8c043933cbf52c9db85ae364624
Layer 5, Forgotten Ruins – talespire://published-board/TGF5ZXIgNSAtIEZvcmdvdHRlbiBSdWlucw==/0d4601f34b54b3841cfc21af8e2cc545
Layer 5, Ido Outpost – talespire://published-board/TGF5ZXIgNSAtIElkbyBPdXRwb3N0/99810aa847a1d58da23015b1367275fa
Layer 5, Ido Bridge – talespire://published-board/TGF5ZXIgNSAtIElkbyBCcmlkZ2U=/7aa6445241892ed05fcb23a6f760949e
Layer 5, Ido Front – talespire://published-board/TGF5ZXIgNSAtIElkbyBGcm9udA==/cca32089493d1ed3a5e387ac6dd1c1f4
Layer 5, The Altar – talespire://published-board/TGF5ZXIgNSAtIFRoZSBBbHRhcg==/845620954006423921509cb7f8bf9ba1
Included Items
Nothing here